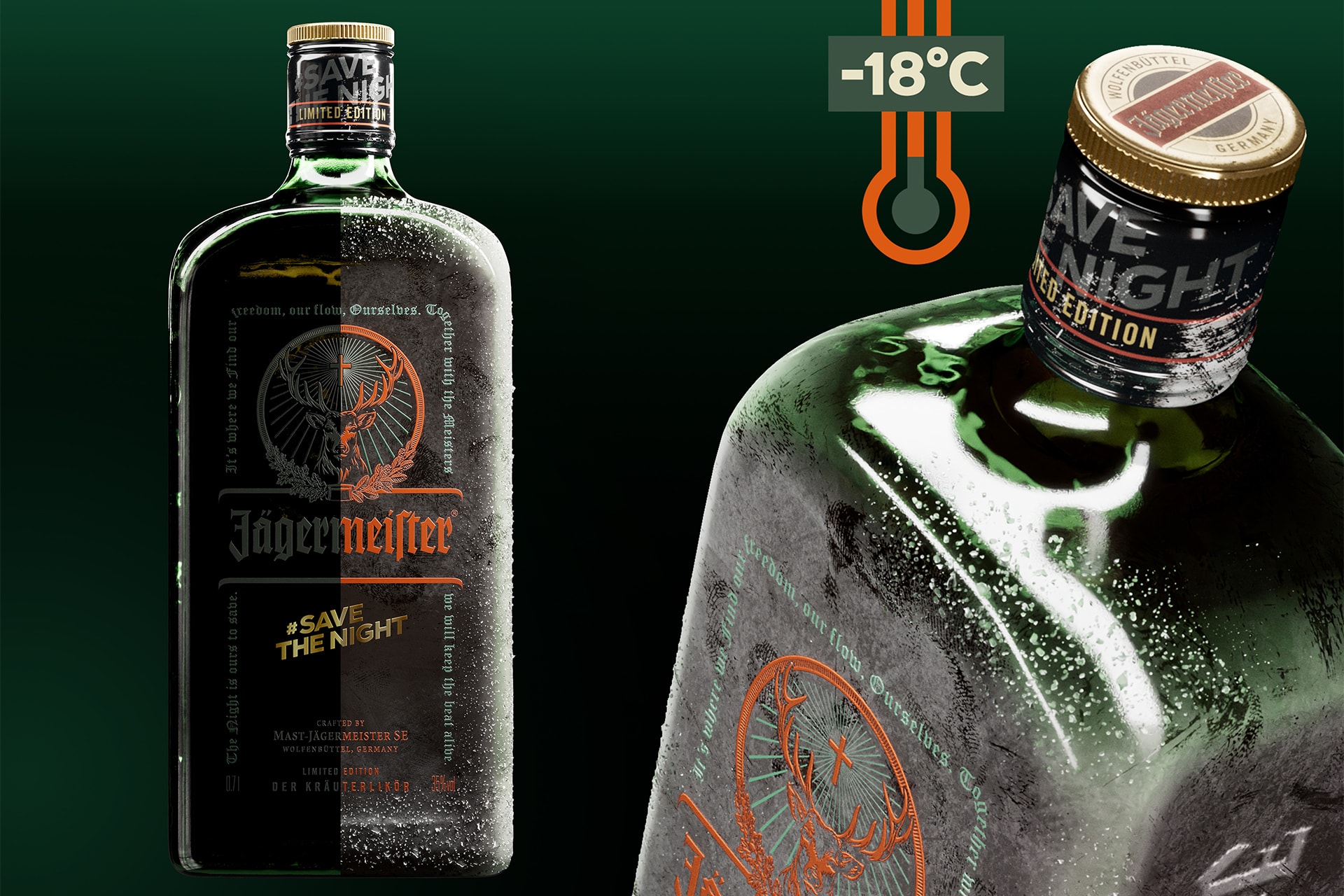 Wolfenbüttel / Montabaur, 10th of May 2023 | The limited #SAVETHENIGHT bottle from Jägermeister is well received: The recently awarded gold medal in the special category "Marketing" at the WorldStar Awards 2023 is already the third award for the limited edition. The bottle was launched in 2021 in 24 markets as a symbol for the new start of nightlife.
In terms of production technology, there are several innovations in the process used by the glass experts from DECO GLAS GmbH: for the first time, thermochromic colors could be applied directly to a glass packaging. The reaction temperature can be individually applied and enables the iconic brand elements to be displayed at -18°C, which is the perfect serving temperature for Jägermeister. The technology sets new standards in the design of packaging glass and offers customers a new consumer experience.
The project was implemented on behalf of Mast-Jägermeister SE together with DECO GLAS GmbH and the design agency Mutter from Hamburg. Previous awards include the German Packaging Award 2022 and the Worldstar Global Packaging Award 2023. "During the Pandemic, we developed this particular bottle to support nightlife actors by giving part of the proceeds directly to the artists", says Wolfgang Moeller, Senior Vice President, Global Brand Marketing at Mast-Jägermeister SE.
Nightlife continues to face enormous challenges worldwide. That's why Jägermeister is committed to preserving nightlife in the long term with #SAVETHENIGHT and addresses pressing matters such as inclusion, safety and diversity in nightlife. Through the global fund, which will be launched again in 2023, the brand calls for innovative project ideas that have the potential to positively influence nightlife and thus sustainably improve, preserve, and promote it. Detailed information can be found online at www.save-the-night.com.